Interskill's Learning Management System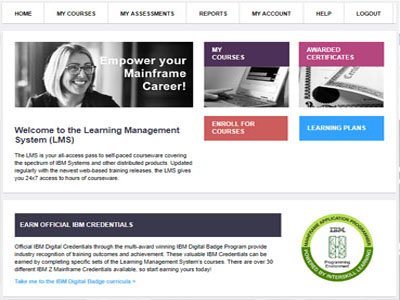 The Interskill Learning Management System is a state-of-the-art, web-based 'portal' delivering on-demand training to your Power Systems computing workforce, every minute of the day, every day of the year, everywhere in the world! It is loaded with valuable learning features for personnel, and is packed with administration, reporting and analytics features for the administrators, mentors, and managers who guide, enhance and control your workforce training.
Your own customized Learning Management System
As part of your learning solution from Interskill, we set up a branded Learning Management System (LMS) for you. When you access the Interskill LMS you will see your own company logo and message.
Students access the Interskill LMS with an assigned UserID and Password. Here they can access all courses, find individual learning plans, access their targeted training, print certificates and run reports on their own progress and results.

---

Students access their assigned e-learning courses via the My Courses button on the interface or via the top menu.

---

Reporting

Managers can run comprehensive reports on student progress and results, keeping track of training completed, skill gains and ROI. Students can run reports on their own progress and even print off Completion Certificates.

---

LMS or Course Suggestions

Tell us the e-learning courses you need or if you have other suggestions! If possible we will add them to our build plan.

---

Structure is essential for effective learning. Quickly and easily give structure to your IBM Power Systems Training program with graphical, defined path of learning activity for each job role. Tailor these learning plans to target your organization specific training needs by adding to the e-learning courses with classroom courses, on the job training sessions, mentoring sessions, manuals, internal process and procedure and standards documents -- any IBM Power Systems Training resources you have available.

Group Managers

Special administrative access is provided to group managers so they can manage students' training. Managers can assign their personnel individual courses, sets of courses or specific learning plans; and can run comprehensive reports on student progress and results. Managers can allocate senior personnel as Mentors for their junior people.

---

IBM Digital Credentials

Coveted and industry respected IBM Digital Credentials are awarded instantly once the learner completes the required courses. The Interskill LMS is linked with IBM's Acclaim credentialing system to give you your IBM Badges as quickly as possible! The Interskill LMS even has a unique feature for those focusing on IBM Credentials: you can select the IBM Badge you want to earn and the LMS will automatically assign the required courses for that badge to your profile. No more hunting for the right courses!

---

Current News and Tips

As you log on to the Interskill LMS you will see weekly tips for Students and Managers. This will help students achieve the best results from their current training and speed them toward advanced skills and competency. Managers will find ideas on maximizing your team's improvement and getting the best ROI on your training dollar.

---

Mentoring

Utilize the experience and knowledge of your senior people by assigning them as mentors for other personnel. Students will enter questions in the mentoring field and those questions will be automatically emailed to their assigned mentor. The interaction between mentor and mentee will significantly improve skill and knowledge gains. You can assign your entire organization to a single mentor or each student can have a different mentor.
LMS Home Screen
The Interskill LMS is available on the web 24 hours a day, 7 days a week, 365 days a year -- at your fingertips to maximize this IBM Power Systems Training solution.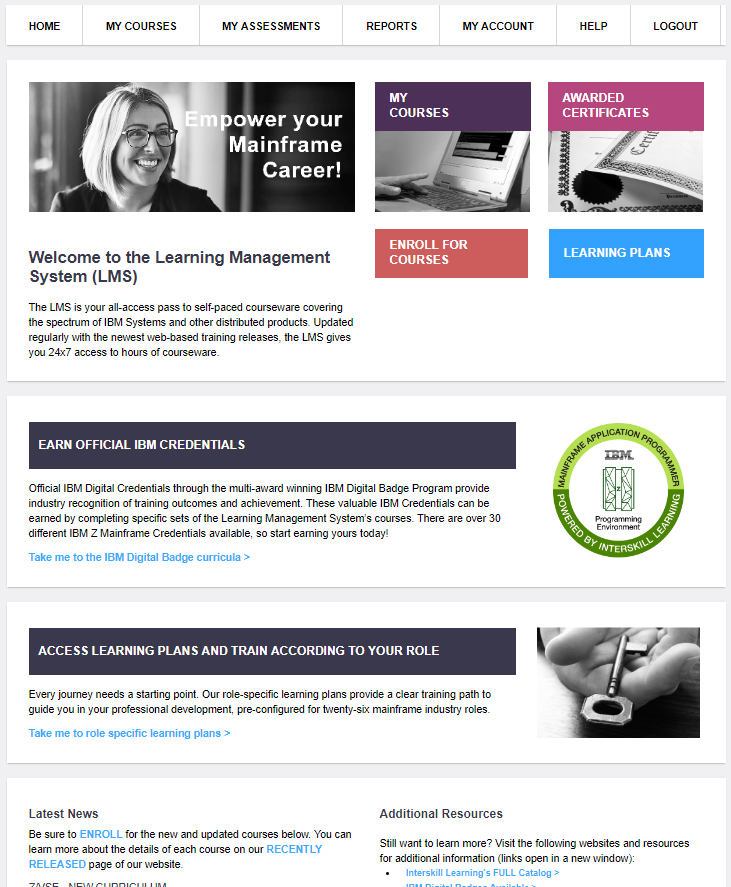 Your Corporate, Third-Party Learning Management System
Interskill Learning courseware has been successfully delivered through dozens of third-party learning management system environments worldwide. If you would like to deliver this courseware via your own corporate LMS, please let us know and we will work with your LMS Technical team to make it a reality!
The ability to integrate our content and technologies starts with Interskill's conformance to major learning technology standards such as AICC and SCORM (1.1 & 1.2, 2004). Interskill is well positioned to assure success across a leading range of customer technology environments. Click on the links below to see technical specification on AICC and SCORM courseware.
Technical Specification of Interskill's SCORM 1.2 Courseware on 3rd Party LMS Sites
Technical Specification of Interskill's Hosted AICC Content Server for 3rd Party LMS Sites